Fresh, Quality Food
Freshly sourced delights from the Kathmandu Valley
Yala Cafe opened its kitchen doors in 2018 to the delight of visitors throughout Nepal. We specialize in bringing prime breakfasts, tasty lunches, deserving dinners, coffees & teas using only the freshest of ingredients sourced within the Kathmandu Valley.
View Menu
Reservation
Yala Cafe is a Nepali restaurant tucked away in a quiet part of Thamel with no traffic. Our guests call us "the most peaceful cafe in Kathmandu … with the best breakfasts … filling lunches … delicious dinners".  We believe that our food is a reflection of our pride. We wanted to bring the freshest of ingredients made into the best dishes for our guests to enjoy in a quiet environment.
We've been working in the hospitality industry for over 20 years and opened Yala Cafe knowing what tourists from around the world wanted. Guests come here to enjoy a place where the food is freshly made for every dish in our dedicated kitchen. We treat all our guests with honesty and respect.  Every effort has been placed to create a delicious and inventive menu in our clean neat kitchen. Our cultural influences come around the world and are celebrated at Yala Cafe as we continually evolve to bring you the best.  We hope you agree and enjoy dining with us.
–Kumar Bogati, Durga KC & all the staff
Yala Cafe, Owners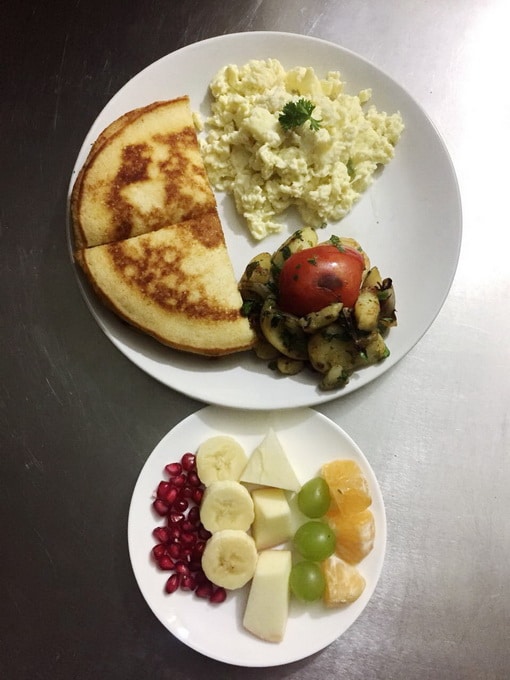 Fresh Ingredients, Delicious Meals
At Yala Cafe we have one of the most delicious breakfast, lunch, dinner & coffee menus in Kathmandu. Our inhouse menu is worth calling into us for a look. Meanwhile, checkout this tasty menu tidbit!
Sunny Morning Power: Scrambled eggs with sautéed onions, potatoes and mushrooms. Toast served with butter and jam
White Jumbo Omelet: A two egg-white omelet accompanied with hash brown potatoes. Toast served with butter and jam
Yala Special Breakfast: Seasonal fresh juice, Yala style pancake, eggs any style, hash brown potatoes, grilled tomato and a banana
Famous Eggs Benedict: Sautéed ham & vegetables along with poached eggs topped with hollandaise sauce
Full On Country Breakfast: Seasonal juice, crispy bacon, two eggs any style & grilled tomato. Toast with butter and jam
Nepali Simple Breakfast: Nepali style omelet accompanied with seasonal fruits. Toast with butter and jam
Discover our breakfast menu
Afternoon & Evening Delights
Lunch & Dinner, Just For You
Chicken Timmur: Tantalising diced chicken breast with fresh coriander, fenugreek and timmur (Nepali pepper). Served with mashed potato and salad
Yala Steak: Tenderloin steak cooked to your desire with mushroom sauce. Served with sauteed potatoes and seasonal vegetables
Tofu Butter Masala: Fresh Nepali tofu marinated in authentic butter masala. Served with rice and a side salad
Sesame Seed Pasta: Chicken or tofu with a delightful blend of mushrooms and sesame seeds
Mongolian BBQ: Your choice of chicken, beef or tofu pan fried in our classic Mongolian sauce. Served with rice and salad
Grilled Fish Fillet: Marinated grilled fish served with seasonal vegetables, sauteed or mashed potatoes and lemon sauce
Afternoon or evening, deliciously fresh
Discover our lunch & dinner menus
We offer an extensive freshly made Nepali coffee & tea selection
Espresso (single/double)
Espresso Macchiato
Cappuccino
Café Latte
Americano
All our coffee & teas are grown in Nepal
Café Mocha
Honey Latte
Flat White Coffee
Nepali Style Masala Tea
Black Tea (Ilam)

"Lovely cafe in the heart of Thamel"
"Good place for organic coffee and lovely sunny breakfast at outdoor sitting area . Recommended 10/10."
Romeo Singh

"Great breakfast and fresh organic coffee . Recommend Yala Cafe. Recommended 10/10 for reasonable price and best food!"
Let's Go Cool

"Delicious pancakes and the best morning espressos in Kathmandu, a welcome addition to the restaurant scene in Nepal"
David

"Great coffee, kindly and friendly staff. Home atmosphere. "
मरिंका फा
Yala Cafe has a lovely mini garden that gets the warm sun every morning which our guests truly enjoy.
Inside we have well spaced tables, a coffee bar bathroom facilities & even quiet zones for people looking to chill out with a book
Yala Cafe caters to all our guests needs with a smile & pride.
We know if your happy with our service & food you'll let the world know too!
All the food served at Yala Cafe is grown locally. We support local producers & in turn you get the freshest ingredients.
We have daily kitchen inspections & all our food is prepared with utmost of attention.
Don't Miss Our Chef's Special
Looking for a supreme breakfast or brunch? Our chefs eggs benedict is the best in all Nepal … how do we know? He started making the famous dish first!
Kathmandu ham, poached eggs, fresh muffin and delicious hollandaise sauce are all waiting for you